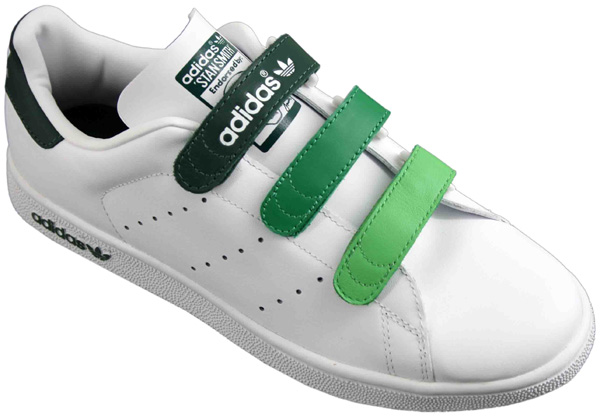 adidas Stan Smith
History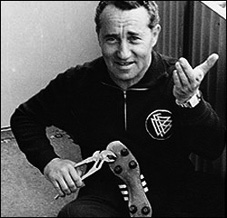 Adolf Adi Dassler started to produce his own sports shoes in his mother's wash kitchen in Herzogenaurach, Bavaria, after his return from World War I. In 1924, his brother Rudolf "Rudi" Dassler joined the business which became Gebrüder Dassler Schuhfabrik (Dassler Brothers Shoe Factory) and prospered. The pair started their venture in their mother's laundry, but at the time, electricity supplies in the town were unreliable, and the brothers sometimes had to use pedal power from a stationary bicycle to run their equipment.
By the 1936 Summer Olympics, Adi Dassler drove from Bavaria on one of the world's first motorways to the Olympic village with a suitcase full of spikes and persuaded U.S. sprinter Jesse Owens to use them, the first sponsorship for an African American. Following Owens's haul of four gold medals, his success cemented the good reputation of Dassler shoes among the world's most famous sportsmen. Letters from around the world landed on the brothers' desks, and the trainers of other national teams were all interested in their shoes. Business boomed and the Dasslers were selling 200,000 pairs of shoes each year before World War II.[9] Late in World War II, the shoe factory shifted to production of the Panzerschreck anti-tank weapon.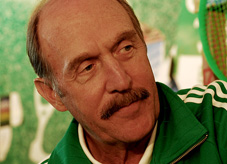 Stanley Roger Smith (born December 14, 1946 in Pasadena, California) is a former American tennis player and two time Grand Slam singles champion who also, with his partner Bob Lutz, formed one of the most successful doubles teams of all time. Together, they won many major titles all over the world. Smith also won many singles titles, including the Wimbledon championship once and the US Open championship once. In 1970 he won the first year end championship Masters Grand Prix title In 1972, he was the year-ending World No. 1 singles player. In 1973 he won his second and last year end championship title at the Dallas WCT Finals.
To non-tennis players, Stan Smith is probably most well known for his line of Adidas tennis shoes. Although the Adidas Stan Smith shoe is not recommended for modern tennis players, the shoes continue to be an iconic and stylish brand for retro tennis shoe fans. During a November 17, 2009 interview that aired on The Tony Kornheiser Show, sports agent Donald Dell said the original Stan Smith green-tab shoe has been in production since 1972, and generated more than US$65 million in revenue in 2008. Dell added during the same interview that the shoe is is the biggest-selling tennis shoe ever.