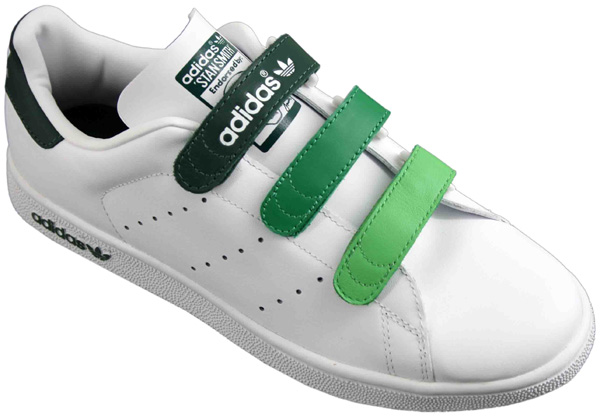 adidas Stan Smith
Shoe Care
Shoe care should be a mandatory course to take in school. I'm not reffering to just sneakers, but boots, dress shoes. Any shoe. The reason for this is that some shoes are not ment to have that over clean look. You want them to look clean, just not out of the box clean. Basically they need just a bit of dirt to give them that "i dont care" feel. Remember that sneakers need to be properly taken care of.
So lets get down on how to be clean.
Take the laces out

This will make sure you get all the actual shoe
Laces can be washed in the washer or quickly by hand

Get warm water

Bucket of warm water
Or hang out by a sink in a laundry room

Use dishwasher soap

Nothing cleans like dishwasher soap
It tends to be thicker then most regular soap

Scrub

If you have an old tooth brush use that

Start with the sole of the shoe

This way you can rest the shoe down after to clean the top

Clean the top

Make sure to get the laces wholes

Dry shoe

Make sure the whole shoe is fully dry

Now get some vim

Do this part only if your shoes are white
On a piece of paper towel place a small amount of vim and rub all over

Get a damp paper towel

Just rub all around getting any excess Vim off
Now your shoes should be good!
However if you are interested, adidas does have a shoe care kit which you can purchase. By clicking on the picture you will be able to purchase.